UNITED CAPOEIRA ASSOCIATION OF HAYWARD
About the United Capoeira Association of Hayward
The UCA (United Capoeira Association) was born in the vision of Mestre Acordeon and Mestre Rã to create an organization where they could work together with similar philosophical ideals and yet preserve their own identities. Some of their American students then began teaching capoeira in different locations under the umbrella of UCA. As many capoeiristas and capoeira schools have embraced the system of "groups" as the paradigm of a capoeira organization, this strategy has proven to be very positive for the growth and survival of capoeira.
However, Mestre Acordeon comes from a time when the concept of "group" was yet to be developed; therefore, UCA is not a group as understood in the capoeira context nor is it interested in many "chapters." UCA strives to be a community of students which appreciates and respects the collective work developing for all capoeira tendencies and approaches in Brazil and beyond.
Ubirajara Almeida, a student of legendary Mestre Bimba, is an author, musician, historian, and most importantly, an iconic capoeira master. One of the early pioneers to bring Capoeira to the western United States in the late 1970's. Today Mestre Acordeon runs the Berkeley headquarters of the United Capoeira Association, a capoeira organization that has various schools across the US, in Ciudad Juarez, Mexico, and academies in Brazil.  Mestre Acordeon has been a guide for many generations of capoeiristas across the world in his nearly 60 years of dedication to this incredible art.  In September of 2013, Mestre Acordeon, Mestra Suelly, and a group of students embarked on a historic, year long, journey from Berkeley, CA to Bahia, Brazil by bicycle.  Mestre Acordeon's goal was to capture on film the diversity of the different capoeira communities along his route, to see not only the way that capoeira can be a tool for personal transformation, but also to see how the diverse cultures affect the evolution of capoeira.  The B2B crew returned in October of 2014 and the soon to be released documentary of this journey is currently in production.  
Mestre Recruta, Chris Montiel, began Capoeira in 1996, at the age of 19, with Mestre Acordeon and Mestre Rã in Berkeley, CA. Mestre Recruta graduated as a "Formado" in 2005 by the United Capoeira Association (UCA), an internationally recognized capoeira school.  In September of 2016, for work as a teacher to children and adults of all levels, and his continued dedication to the preservation and dissemination of Capoeira, Recruta earned the title of "Mestre," granted by UCA founders Mestre Acordeon, Mestre Rã, and Mestra Suelly.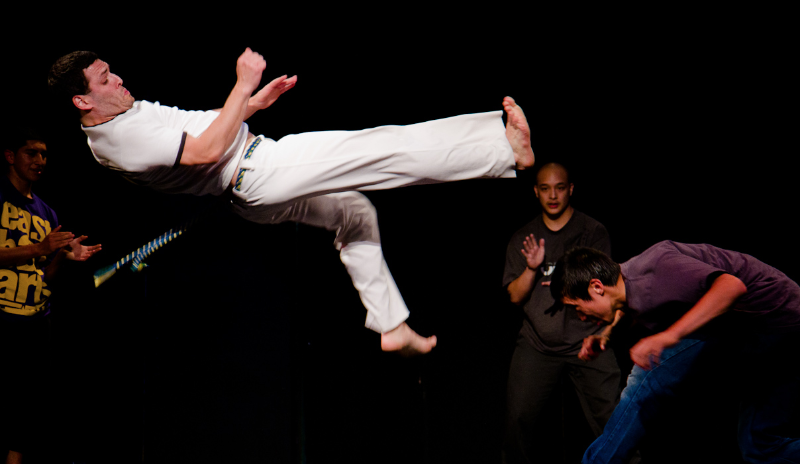 "Capoeira is a tool to make people better human beings"
– Mestre Acordeon
We would love to speak with you about the Beloved Community Network.
For any questions or comments, or to reach out to us about our programs or offerings, please submit the completed form and we will get back to you as soon as we can.